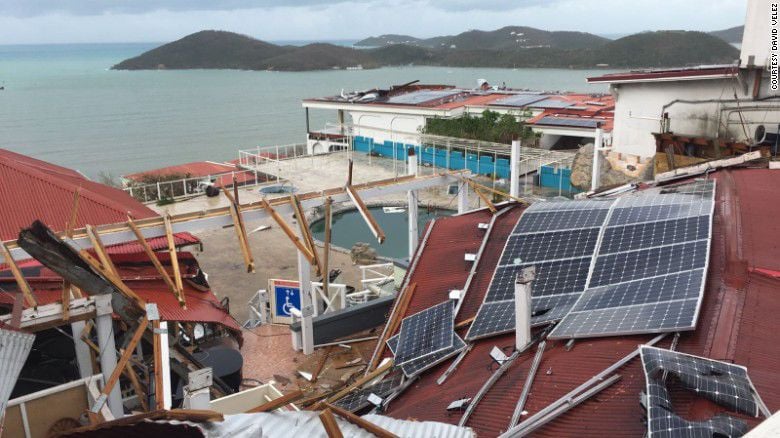 St Thomas After the Irma and before Maria*
On October 24, 2005, a few weeks after Katrina, Fort Lauderdale was hit by a Cat 1 Hurricane, Wilma. Tucked into our house with a friend, Sherod, Maria, our pets and I hunkered down to wait it out. After a couple of hours of incessant, howling and wailing wind like everyone talks about, things had gotten fairly rough. We'd already heard the screeching of metal as the screened in the area around our pool fell apart and went crashing into the pool and deck.  There were all kinds of thumps, some of them obviously involving large objects hitting walls or the ground, but we couldn't see them because we were shuttered in. We knew these thumps were about flying debris, for sure, but how bad was it? The scariest moment for our household came as the wind shifted direction after the eye went over the house.  We had a wall of sliding glass doors running along our living room/dining room area where we were riding out the storm. They, and all our doors and windows, had been properly shuttered and until then, we had felt relatively safe.  But all of a sudden, our ears started popping and simultaneously, we looked at the glass doors and saw they were bulging in so much that we expected them to shatter at any minute.  And then, it would be time to run–though where we would run, was not clear.
The doors held and by late afternoon, we began the 'post-hurricane' time of digging out and starting over. It's as if simultaneously the world had ended and begun anew, with all its weirdness and disruption.  In our neighborhood, we were without power for pretty close to a month.  Sherod had bought a generator and we learned to rotate washing machine, refrigerator, and freezer on and off the generator and we put up a makeshift clothesline to keep clean clothes.  We got a glimpse of a tougher life that requires more effort to accomplish small things and more resilience and strength and grit.
In the hours before we safely leave the house, it was hard not to wonder how the church we were both serving had had fared and how our parishioners were doing as well..  This was right as off-site data storage was becoming available and we had backups of the database of church records with the software company the church used. That meant we had some sense that if there had been any significant damage to the church, we'd be able to reconstruct our parish membership roles pretty quickly.  In those hours, and during the next days, Sherod and I had long conversations about how a church can–and also might not be able to–be church after bad hurricanes.
Looking back on the days and weeks of getting things working again, I remember we had emotionally exhausting work to do. But all this had been was a Cat 1 storm–as easy as you could get in the hurricane department.
For the US Virgin Islands, the recovery continues as it will for years to come, after back to back Cat 5 hurricanes–Irma and Maria.  Like first responders, clergy live with the tension between caring for themselves and their families and tending to their faith communities. I suspect for the clergy of the USVI, life is lived in a crucible of need far exceeding resources. All these months later, my fellow clergy colleagues must be exhausted.
The Episcopal Diocese of the USVI and the Diocese of Alabama, where I am canonically resident, have a companion diocese relationship. The Bishop's office in Birmingham has been hard at work coordinating a variety of relief efforts, trying to ease the hardship in many different ways.  Today, I got an invitation from the relief effort coordinator for our diocese.
The Bishop of USVI must make a trip in the latter part of February.  He needs clergy coverage for the services at the Cathedral Church of All Saints in St Thomas in his absence.  That community also needs a facilitator to ead their vestry retreat.  I am headed down to provide that help on the 17th of February.
I know a little better than others what I'm heading into, but probably far less than I think.  I hope what little I learned during Wilma will help me be better able to work and serve with these brothers and sisters I've never met. Sherod and I have given to emergency funds set up for both Puerto Rico and USVI. But I am so uncomfortable about helping exclusively from a safe distance.  Now, I take myself, body, mind and spirit, hoping to do some little bit of service.
There's one small twist of fate in this trip. For years, Sherod and I dreamed of going sailing in the USVI.  A former boss of mine had spoken endlessly about the magic of the Bitter End Yacht Club on Virgin Gorda. With the sailing experience we were getting in South Florida on our sweet, good sailing vessel Promise, we imagined going down to this yacht club/resort in Virgin Gorda, chartering a sailboat and heading out for a sailing vacation. As things would have it, we ended up going to Mexico instead, and brought home a little girl to call our own.  Now, settled in this farm of ours, coming more and more to terms with the kind of simplicity we both are reaching for in our life, Sherod and I don't harbor those kinds of dreams any longer.  It's plenty exciting to get the Seed Saver Exchange catalog on one of those dark, cold days in January.  Yet here I am, getting to go to the USVI.  That's how life turns out: things happen. Just not how you'd imagined or hoped they would. Sometimes they turn out so much better.
*http://www.kwqc.com/content/news/St-Thomas-heavily-damaged-by-Hurricane-Irma-443032983.html